Soft Pretzels with Cheese

$7

Hand-Salted

Served with Thousand Island

Served with Carrots, Celery, and Pita

Served with Cilantro Lime Aioli

Tots, queso blanco, lettuce, tomato, onion, sour cream & a dab of guacamole
$2 add beef, pulled pork or shredded chicken
$4 add vegetarian crumbles
$4 add brisket
Hearty Rustic Chili

$4 Cup/$6 Bowl

Robust chili made in-house with fresh ingredients, topped with onion & served with oyster crackers Vegetarian chili option available.
.50 add shredded cheese or sour cream

Soup Du Jour

$4 Cup/$6 Bowl

Flavorful soups inspired by the seasonal ingredients, served with crackers

Lettuce, tomato, onion, cucumber & croutons

$2 add chicken, brat, shredded pork
$4 vegetarian protein crumbles

Dressing Choices: Balsamic, Bleu Cheese, Caesar, Honey Mustard, Thousand Island, Ranch & Seasonal Vinaigrette
Served plain or with your choice of housemade sauce or dry rub

Garlic Parmesan | BBQ | Teriyaki | Sweet Chili | Buffalo | Rustic Sauce | Nashville Hot | Creamy Lemon Pepper | Southport Thai Peanut | Rustic Road Gold Tangy Infused BBQ

Chipotle Red | Tangy Lime | Lemon Pepper
$2 add carrots & celery
Served with chips or tots. Or choose specialty side for $1 extra

Angus beef patty with lettuce, tomato & onion

Fried, grilled, or shredded with lettuce, tomato & onion

.50 pickles, jalapenos, giardiniera, wing sauces
$2 Choice of cheese - Cheddar, Swiss, Pepper Jack, Provolone
$2 thick-cut bacon
$4 substitute non burger patty
$3 substitute fried, grilled or shredded chicken

A blend of brownie & cookie, served with caramel & chocolate syrup
$1 add vanilla ice cream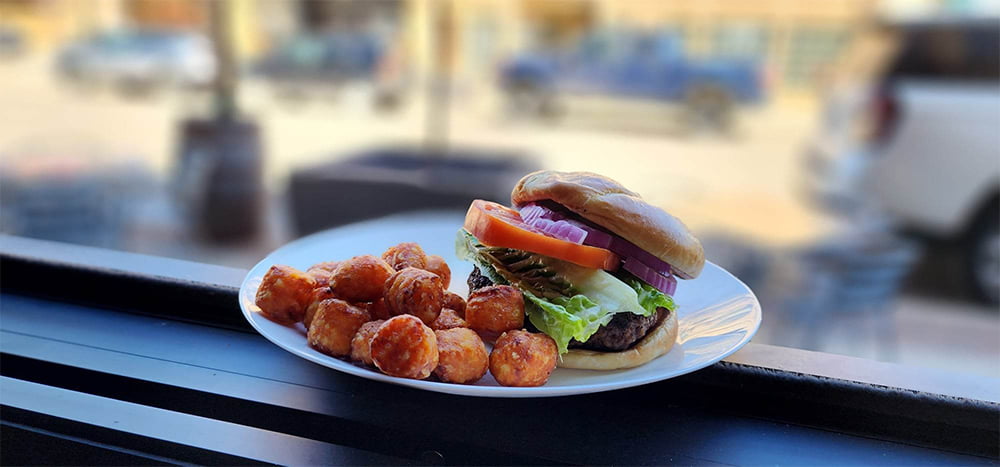 Served with chips or tots. Or choose specialty side for $1 extra

Three sliders of your choice.
Angus beef with cheddar, pickles & onions
BBQ pork with pickles & slaw
BBQ chicken with cheddar & onions
Fried chicken with creamy lemon pepper sauce
Italian beef with giardiniera
Brisket with onion, pickles and house sauce (add .75 per slider)

Four tacos topped with pico and chipotle aioli. Mix and match.
Beer infused chicken
Pulled pork
Ground beef
Vegetarian protein (add.75 per taco)

Savory Italian beef on a French roll, with giardiniera & au jus, red sauce upon request

Our house-prepared brisket, in our house sauce, on Texas toast with provolone cheese, onions & a side of pickles

Tossed in Rustic sauce, on a fresh Paielli's bun with slaw & a side of pickles

Three brisket tacos tossed in house sauce served with shredded cheese, chipotle aioli & coleslaw

Pub brat, served on a bomber bun with spicy mustard & onion. Add sauerkraut .50
Not all ingredients are listed. Please alert your server of any food allergies. Kenosha County would like to remind you that consuming raw or undercooked meats, poultry, seafood, shellfish or eggs may increase your risk of food-borne illness, especially if you have certain medical conditions.
Makers Mark, Blackberries, Lemon, Simple Syrup. Try with any alcohol for a different taste

Bulleit, Lemon, Simple Syrup, Club Soda

Jameson, St. Germain, Cucumber, Lemon, Honey

Titos, East View Coffee Cold Brew, Homemade Coffee Liqueur, Simple Syrup

Bulleit Rye, Honey, Lemon, Almond Bitters

Titos, Bacardi Limon, Triple Sec, Fresh Squeezed OJ

Milagro, Triple Sec, Lime, Agave Nectar, Splash Lemonade

Titos, Raspberries, Lemon, Simple Syrup

Any Liquor, Lime, Ginger Beer

Basil Hayden, Bitters, Orange Bitters, Demerara Simple Syrup
Rustic Road takes great pride in its kitchen. Most of the brewery's menu items are prepared in-house with fresh ingredients, the extra love may take a little extra time. We appreciate your patience.